Material: HEMA
Power: 0.00
Base Curve: 8.6mm
Thickness: 0.08mm
Diameter: 14.2mm
Water Content: 38% ~ 40%
Replacement Cycle: Yearly
Packing Specification: 1 Pair, packaged in sterile buffered isotonic saline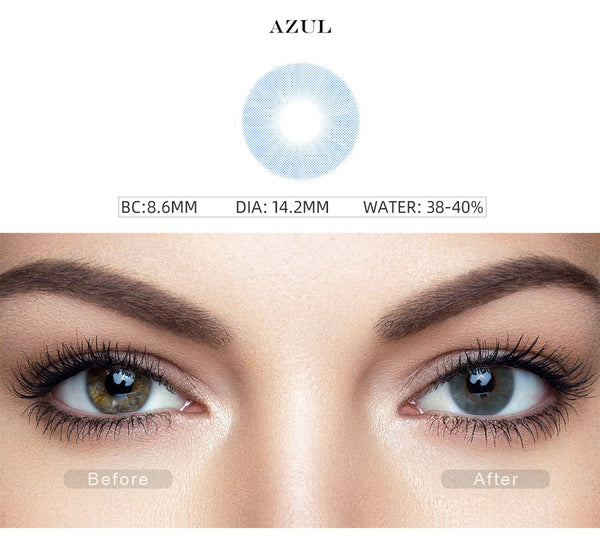 Everyone dreams of having blue eyes! Try Azul Blue to achieve bright blue eyes like the ocean. Our Azul Blue contacts bring this beautiful shade in a natural look without a limbal ring. This shade looks vibrant and youthful on anyone.
If you do not satisfied with our goods and want to send them back to get a refund, we accept returns within 14 days from receiving the order. Items returned must be in their unused condition with the original packing. We do not accept a returned item that's worn, damaged, washed or altered in any way.

If you need return & refund, please contact our after-sale customer service team: email: freshgo@freshgo.store
Your order will be processed within 24 hours of payment. A confirmation email, with tracking information, will sent to you once the item leaves our warehouse.
Total Delivery Time = Processing Time + Shipping Time
Processing Time:1 - 2 Business Days
Shipping Time: 7 - 14 Business Days
Please DO
* Wash and rinse your hands thoroughly with mild soap and dry with lint-free towel before handling your lenses
* Soak and rinse your lenses with multi-purpose solution 24 hours before putting them in your eyes
* Inspect your lenses thoroughly for any tears before inserting them into your eyes
* Clean, rinse and disinfect your lenses each time you wear and remove them. 
* Handle your lenses with your fingertips; take extra care to avoid lens touching your finger-nails
* Put in your contacts before you put on your eye-makeup or any costume paint 
* Remove lenses immediately if you experience any discomfort
Please DON'T
* Wear lenses longer than the recommended wear time
* Rinse your lenses in tap or sterile water
* Sleep with your lenses in your eyes
* Wear another person lenses