Applicable to light and dark eyes! Have you always wanted a contact lens to enhance your eye color but still offer a natural look on it? Rio Mel color contact lenses can give you what you want! This color comes without a limbal ring, so it allows for a flawless and earthy look.

Material: HEMA
Water Content: 38%~40%
Thickness: 0.08mm
Base Curve: 8.6mm
Diameter: 14.2mm
Period of Use: 12 months
Expiry Date: 5 years
Packaging: 1 Pair (2 lenses), immersed in buffered saline solution.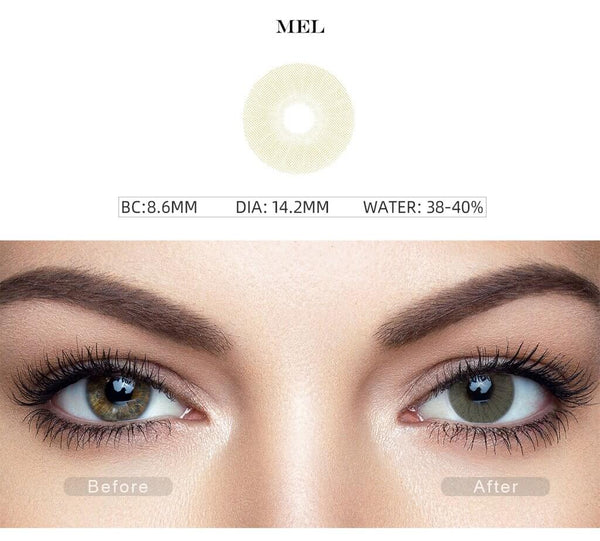 WHAT IS THE BENEFIT OF FRESHGO LENS

Premium quality poly-HEMA material to ensure moisture, softness, and comfort. Unparalleled breathability assures sustained moisture for your eyes.
Sandwich Technology encapsulates color pigments and embeds them within the lens layer to avoid direct contact with the eyes, ensuring safe and comfortable wearing. Built-in UV protection help to block daily ultraviolet, keep your eyes healthy and safe when you are outside.
High-quality material usage ensures our lenses with the durability of up to 12 months.
If you do not satisfied with our goods and want to send them back to get a refund, we accept returns within 14 days from receiving the order. Items returned must be in their unused condition with the original packing. We do not accept a returned item that's worn, damaged, washed or altered in any way.

If you need return & refund, please contact our after-sale customer service team: email: freshgo@freshgo.store
Your order will be processed within 24 hours of payment. A confirmation email, with tracking information, will sent to you once the item leaves our warehouse.
Total Delivery Time = Processing Time + Shipping Time
Processing Time:1 - 2 Business Days
Shipping Time: 7 - 14 Business Days
Please DO
* Wash and rinse your hands thoroughly with mild soap and dry with lint-free towel before handling your lenses
* Soak and rinse your lenses with multi-purpose solution 24 hours before putting them in your eyes
* Inspect your lenses thoroughly for any tears before inserting them into your eyes
* Clean, rinse and disinfect your lenses each time you wear and remove them. 
* Handle your lenses with your fingertips; take extra care to avoid lens touching your finger-nails
* Put in your contacts before you put on your eye-makeup or any costume paint 
* Remove lenses immediately if you experience any discomfort
Please DON'T
* Wear lenses longer than the recommended wear time
* Rinse your lenses in tap or sterile water
* Sleep with your lenses in your eyes
* Wear another person lenses